About Us
Avenue is a day program with a difference, where our participants (known to us as Team Members) come in and complete real work tasks in a supported environment. Avenue exists as a series of co-working spaces, containing a number of thriving micro enterprises where team members are supported regardless of their support needs to engage in meaningful work whilst earning remuneration.
Our vision is people with disabilities have unbridled access to opportunity, dignity and prosperity as part of a truly inclusive economy. 
The Avenue Shop is run by a team of people with disability who work in the Markets Team. By shopping with us, you are providing meaningful work and creating an inclusive economy for people with disability.
Shop Avenue Entrepreneurs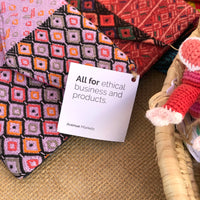 We're all about ethical products and supporting entrepreneurs
Being part of the Markets Team means supporting local and international businesses that align with our beliefs, representing and selling those items to the community to further educate the large community about the products and Avenue.
The team is responsible for curating a range of ethical fair trade products from artisans around the world who have the same value alignment as Avenue.
We stock products from ethical brands around the world, as well as brands created by our in-house team of Avenue Entrepreneurs, who develop and make their own products.
Local Markets
The Avenue Markets team attends local markets each week around Sydney.
Warringah Mall
Located outside L'Occitane en Provence, near Seed.
The Frenchs Forest Markets team attends from Tuesday to Friday.
The Entrepreneurs Team attends every Monday.
Chatswood Market
The Frenchs Forest Team attends Thursdays from 10 am to 1:30 pm
Bondi Junction Markets
The Botany Markets Team attend Wednesday and Friday's
Find out More